Amongst the seven subjects that are generally taken by Leaving Cert students, French is included in that selection for approximately 40% of all final year students in secondary school sitting the Leaving Certificate Examinations. There are many advantages of studying French for the Leaving Cert.
In the 2019 Higher Level Leaving Cert French exam that was sat by 15,654 students, the average points were 67 which is an H4. 6.2% was awarded an H1, 13.9% achieved an H2, 18.7% achieved an H3, 22.6% received an H4, 21.3% received an H5, 13% got an H6, 3.7% got a H7 and finally 0.6% ended up with an H8. It was even worse for Leaving Cert students sitting the exam at Ordinary Level which averaged 22 points. As these results are consistent with previous years, these findings show that when it comes to the Leaving Cert French exam, there is a lot of room for improvement.
As Leaving Cert students scramble to rack up as many points as they can possibly get, this article will give you tips as to how you can improve in the Leaving Cert written exam. Hopefully, we can drive up the average points of 67 and 22 as shown above. Some students regard themselves as 'just not a language person' but are faced with no choice but to pick another language option besides Irish to sit in the Leaving Cert because more course options will be available to them when filling out the Central Applications Office form for higher institution choices.
The best French tutors available
1st lesson free!
1st lesson free!
1st lesson free!
1st lesson free!
1st lesson free!
1st lesson free!
1st lesson free!
1st lesson free!
1st lesson free!
1st lesson free!
1st lesson free!
1st lesson free!
1st lesson free!
1st lesson free!
1st lesson free!
1st lesson free!
Why Study French?
Besides the fact that French is a beautiful, mellifluous language that is commonly referred to as the 'language of love', more than 275 million people speak French. It is spoken on five out of the seven continents.  According to Forbes, data suggests that French could be the language of the future. French is a good language to have in the international trade market when looking for a job. There are jobs worldwide, even high-profile jobs that having French as a language can help to secure.
As someone with family members that speak French, I love to listen to pleasant words, and I have even witnessed the resourcefulness of being able to speak French fluently. It is indeed a language of culture, which is why in the Leaving Cert French exams, students are often asked about French culture because there are a variety of areas internationally that are associated with French such as dance, food, fashion and theatre. Studying French opens more options for students filling out the Central Applications Office form. Many courses include French as a minor subject and something else as a major subject. Having a good knowledge of French is very beneficial if you are learning another language, there are certain words that are common or even stem from French words in other languages, even some English words derive from French.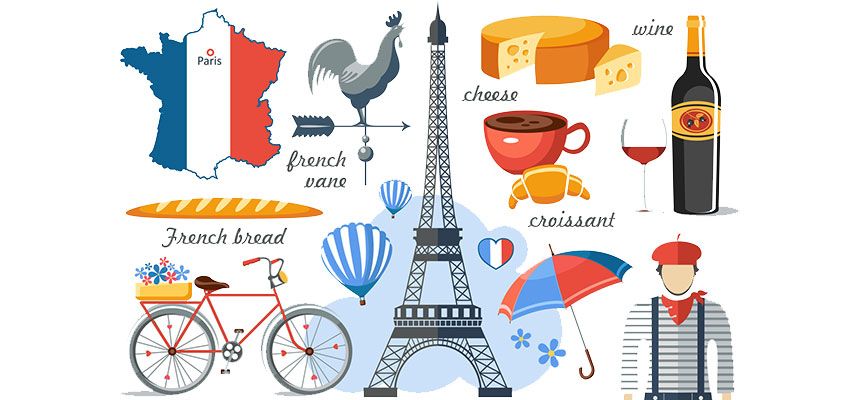 How is the French Leaving Cert Exam Divided?
Fundamentally, there are three components to the French Leaving Certificate Exam, as well as the French Junior Certificate exam – the oral, the written and the aural, also known as the listening part. The Leaving Cert French oral exam is 25%, while the written part is 55% and the aural is 20%, which varies at the Ordinary level. To find out how the French curriculum is laid out in order to assess the listed topics set out by the National Council for Curriculum and Assessment in the written exam, read the article about a guide to Leaving Cert French. It will guide you in the various areas of Leaving Cert French, further outlining the topics that are covered in the exam.
This article will be focusing on the portion of the French exam that accounts for over half of the entire French Leaving Cert exam, namely being the written exam. While it can be argued that the oral is the most significant aspect of French for life in general, the written is undeniably the most important part in the Leaving Cert French exam. If a student receives full marks in the French written exam, that automatically brings them up to an H5. If a student leaves the written part of the exam blank, the highest they can receive is an H6, so it is very evident that the written is the most important portion of the exam, which carries the most marks. The written exam is completed before the aural commences, generally ten minutes before the aural commences. It carries 220 marks and lasts for 2 hours and 30 minutes at both Higher and Ordinary level.
The best French tutors available
1st lesson free!
1st lesson free!
1st lesson free!
1st lesson free!
1st lesson free!
1st lesson free!
1st lesson free!
1st lesson free!
1st lesson free!
1st lesson free!
1st lesson free!
1st lesson free!
1st lesson free!
1st lesson free!
1st lesson free!
1st lesson free!
What Topics are Covered in the French Leaving Cert Written Exam?
Since the written exam is the largest portion of the Leaving Cert French exam, a broad range of topics are covered, similarly to the oral exam.
There are two sections at Higher Level: Section A carries 120 marks and Section B carries 100 marks. Section A has two reading comprehensions with questions that follow. Both reading comprehensions must be answered. The answers must be given in French unless it is specified that they should be given in English/Irish. Question 6 in Section A for both reading comprehensions usually asks a question that requires the answer to be given in English/Irish. The question will be asked in both English and Irish. Section B has four questions and Question 1 is mandatory and usually related to the reading comprehensions and two questions out of Question 2,3 and 4 must be answered. Question 1 is usually an opinion piece or a topical question. Question 2,3 and 4 could be a diary entry, letter, email, opinion piece, postcard, written production, message, topical question, or a general question.
There are two sections at Ordinary Level: Section I is 160 marks and contains four reading comprehensions and all the questions must be answered in French unless stated otherwise. In Section II, which is 60 marks, students pick two out of options A, B and C to do. It could be a letter, application form, letter, postcard, email, message, or diary entry, amongst others.
The topics that tend to come up in the written exam are animals, nature, the environment, education, health, travel, tourism, culture, politics, social issues, equality, sport, technology, the media, young people, music, and current affairs. Multiple topics come up on the written paper each year that it is impossible to predict what could come up on the written exam. New topics are constantly coming up each year, so it is important to expand your vocabulary.
Advice on Succeeding in the Leaving Cert French Written Exam
Certain things often appear in the Leaving Cert French written paper like letters, diary entries and postcards, therefore, as a start, it is essential that you know the structure of these things. For example, which side to write the date on, and how to start a formal letter. Getting the structure right already earns you marks. Past papers are a good tool to use when practising the written exams because while the questions may be different from year to year, the type of format you will use for the written exam is repetitive. Online resources are also a good preparation guide.
To practice your written French, you can connect with a French pen pal and write letters to them in French. This could be a question in the French Leaving Cert paper where it instructs you to write a letter to a pen pal. Some of the questions on the French exam have word counts and it is a good idea to use them as a guideline, but make sure you do not get too hung up on the word count, that you get distracted and let it affect the quality of your writing. When you are finished, go back over what you have written and check for spelling errors, grammatical errors, and make sure that you have written what each bullet point in a question asks you to write about.
A plethora of topics come up so you need to keep expanding your French vocabulary so that you will be prepared for any topic that comes up on the exam and you need to expect the unexpected because there is no particular trend in the Leaving Cert French written exam when it comes to the kind of questions that are asked. You do have a choice to some extent, but other questions are mandatory, so in the choice questions, pick the question with the topic you are most familiar with, where you have the most extensive vocabulary. Use French proverbs to show off your knowledge of the French language. However, if a particular proverb does not fit, do not force it or it will look awkward.
Most importantly, read the questions carefully, especially if you are required to answer them in English/Irish!
Practising for the French Written Exam on Superprof
Superprof is filled with tutors worldwide, with different abilities and levels of French. It will be very helpful in studying for the written exam. You could do past papers with the tutor which is highly recommended when preparing for the written exam. The tutor could even help you to write a letter to your French pen pal. They could even throw a topical issue at you and you would write your opinion about that issue down, such as racism or politics. You can practice reading comprehension with your tutor and after your session, you can write a journal intime, which is a diary entry about how the session with your Superprof tutor went. You might even choose to communicate with your Superprof tutor solely in French, which will benefit all aspects of your French – the oral, the written and your hearing of the French language.
Write to your French Pen pal with your Superprof Tutor!
The platform that connects tutors and students